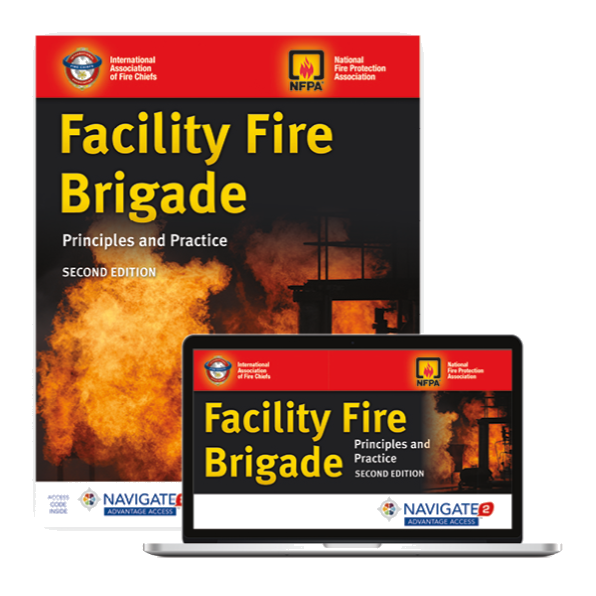 Facility Fire Brigade, Second Edition will be available soon! In the meantime, check out an exclusive sneak peek.

Check out a sample chapter from the Second Edition today:




Tell Me More!

Facility Fire Brigade: Principles and Practice, Second Edition is an integrated curriculum for the four levels of a Facility Fire Brigade:

Incipient Facility Fire Brigade Member

Advanced Exterior Facility Fire Brigade Member

Interior Structural Facility Fire Brigade Member

Facility Fire Brigade Leader


Brought to you by the National Fire Protection Association (NFPA) and the International Association of Fire Chiefs (IAFC), the Second Edition addresses the 2018 Edition of NFPA 1081, Standard for Facility Fire Brigade Member Professional Qualifications. Additionally, it aids in compliance with Occupational Safety and Health Administration (OSHA) Regulations 29 CFR § 1910.156, as well as NFPA 600, Standard on Facility Fire Brigades.

The Second Edition's up-to-date, comprehensive training materials thoroughly prepare facility fire brigade members for any situation, in all types of facilities. Engaging content and features promote retention of knowledge to increase effectiveness and safety in the field. The Second Edition's features include:

Detailed case studies

Expanded skill drills

Words of wisdom from veteran facility brigade leaders


Get Started

To learn more about this dynamic resource or to pre-order your copy, visit http://go.psglearning.com/FireBrigade2e

Questions? Please contact your dedicated Public Safety Specialist today.