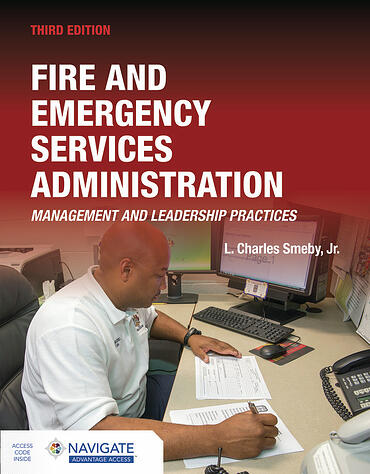 The Third Edition of Fire and Emergency Services Administration: Management and Leadership Practices will be available soon! Check out an exclusive sneak peek.

Look inside the Third Edition today:



Tell Me More!
Fire and Emergency Services Administration: Management and Leadership Practices, Third Edition, provides aspiring and current chief officers who administer, manage, or lead fire, emergency medical services (EMS), rescue, and/or emergency management organizations with the knowledge to make policy decisions and the skills needed to lead their organizations through progressive change. The core principle of the program is focused on problem solving through persuasion, influence, and developing internal and external cooperation processes to achieve the organization's mission. Real-world perspective bridges the gap between theory of management and leadership practices and the application of those vital skills.
To effectively administer a modern public safety organization and the various components within them, individuals must possess a solid understanding of the always-changing issues that face the fire and emergency medical services. TheThird Editionhas been completely updated to deliver the very latest information needed to understand these challenges and will assist chief officers in making the proper decisions that can impact all aspects of their organization.

TheThird Editionfeatures:
Expanded emphasis on management and leadership of EMS operations.
Updated budgeting financial strategies, including advice on how to overcome shrinking budgets and economic downturn.
New guidance on hiring and diversity.
Expanded coverage on training, education, and fire fighter safety.
This text is an essential resource for officers, those studying for promotion, individuals taking civil service examinations, fire science students, and existing practitioners as it prepares them for their management and leadership career in the fire and emergency services.


Get Started
To learn more about this dynamic resource or to order your copy, visit go.psglearning.com/fesa3e.

Questions? Please contact your dedicated Public Safety Specialist today.